Features: DST20F
Equipment Panel Mountable, Solar Cell/Panel Powered Digital Thermometer, Model: DST-20:
USEFUL FOR: Showing temperature of any where the sensor is located, air or liquid (like a fishtank), either at home, office or wine cooler.

Features:
Large & Clear LCD display, easy to read.
Display temperature where the sensor is
External temperature sensor with 72-inch insulated wire.
Free standing or panel mountable.
Solar cell powered with rechargable battery, Never need to change the batteries again!
Technical Parameters:
Temperature range: -50 to 150 °F
Accuracy: +/- 1 °F,
Sampling period: 10 seconds.
Power supply: solar cell/panel powered
Illuminance: >= 200 Lux;
Resolution: 0.1;
Operating Ambient Temp: 20 to 150 °C;
Physical Size: 140 X 36 X 16 mm;
Display Size: 40 X 100 mm.
Solar panel size: 40 X 100 mm.
More pictures: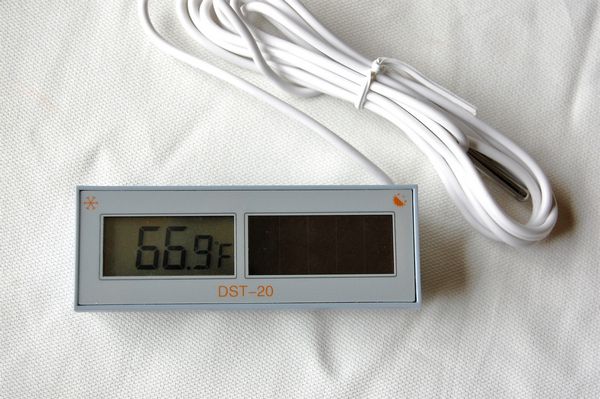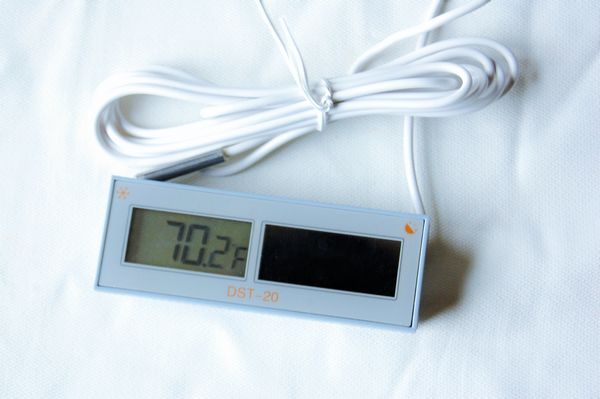 FAQ of this Product Manual/Instruction