Shipping

We operate out of central Illinois and ship packages out every business day. We use UPS Ground Service or Fedex Ground/Home Delivery Service for most orders over 10 pound, while smaller packages may be shipped by USPS Priority or first class. Most items will be shipped out the same day, if paid for before 3:00 PM Central Time.

All packages are shipped with a tracking or confirmation number. Based on past shipments, delivery time for the Ground Services within the continental USA are as shown in the following map: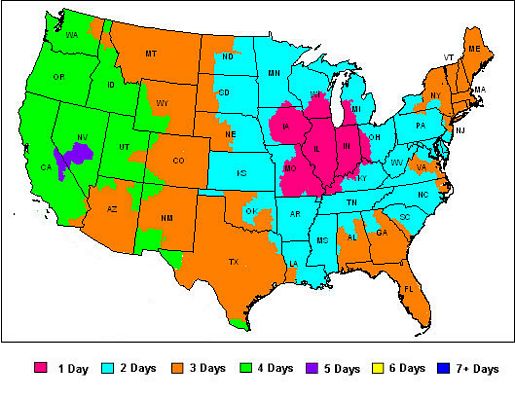 Priority or First Class Mails will get delivered in 3 business days for most cities where they have nearby airports. Shipping anywhere within the Continental USA is based on the combined shipment weight, at fixed rate for all ground services. We reserve the right to choose the most reasonable service. For shipments to Alaska, Hawaii, or other USA islands or territories or Canada, the shipping rates are typically double or triple the Ground fixed rates for the Continental US. Internation shipping is more expensive and we may refuse to serve areas that we do not trust for the delivery. If you are international, Please feel free to contact us for a shipping quote before making the order.
Returns
Returns are accepted only for mis-representation, or product malfunction or defective units. Return shipping is the responsibility of the buyer; shipping fees are usually non-refundable.
Product Warranty
Warranties are provided on all products that we sell here at VIOT. A one-year warranty is provided for the following products: vacuum pumps, recovery units, leak detectors, manifold gauges, scales, adapters, and plumbing tools. Digital thermometers have only 3-month warranty.