>>Click Category List...




















Still Looking? Do a
PayPal/Credit cards
accepted

Product: Kits: VK1
Item Brief: Forged Classical Brass Manifold with 3ft hose set, Quick Snap port adapters and R134a can tap
Buy it now:$39.97
Shipping in US: $9.95 (Note: 2 X the $ to US Islands or 3 X to Canada, or 4X to Other counties)
Check out with PayPal or Credit Card: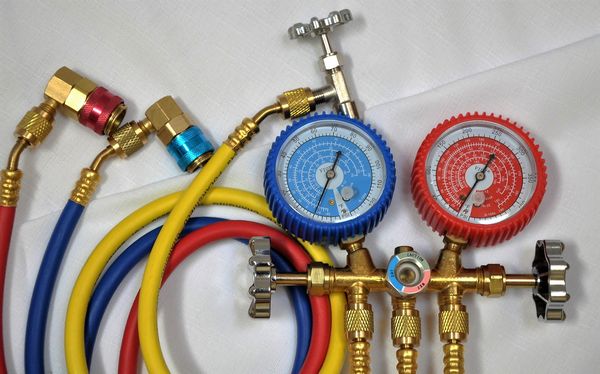 You are Looking at a

Car AC Tool Kit: HVAC Manifold w/ Hose Set, Model GMac; Port Snap-on Couplers: model QCPL; And R134a Can Tapper Model TAP1.
Complete for Car AC system Diagnosis & Charging.
FEATURES:
R22, R12, R134a, R404a Manifold:
Large 2 1/2 " diameter easy-to-read, dual gauges,
mounted on Brass body
with Large sight viewing glass
with rubber shield cover on the gauges to absorb physical shock
Large easy-to-grab hand-knobs on the sides
Large port holes/ less restriction faster recovery or charging, or
Pressure in PSIG
Temperature in F for R22, R12, R134a, R404A
3 Brass hoseend anchors in the back of the gauges,.
a heavy duty SS hook for hanging the gauge set
3 Color Coded Hoses

36 inch ling each
3000 PSI burst pressure
600 PSI working pressure
1/4" female SAE brass fitting to the gauge block
1/4" female SAE brass fitting to the system ports.

45 degree angle on the service port site for easier access
a package of hose seal repair kit included
Plus, a Pair of Car AC Port Quick Couplers/Connectors
Set of 2, color coded quick connectors:

Blue, Low side quick connector/adapter, 14mm
Red, High side quick connector/adapter, 16mm

All metal construction
Quick action 6-ball operated, safe design to protects against injury and refrigerant loss.
Compact.
In stock and ready to ship.
R134a Can Tapper with 1/4" flair connection

Punch and open the small R134a cans and charge to the AC systems with the manifold. Heasy duty for the job, Reusable for decades to come.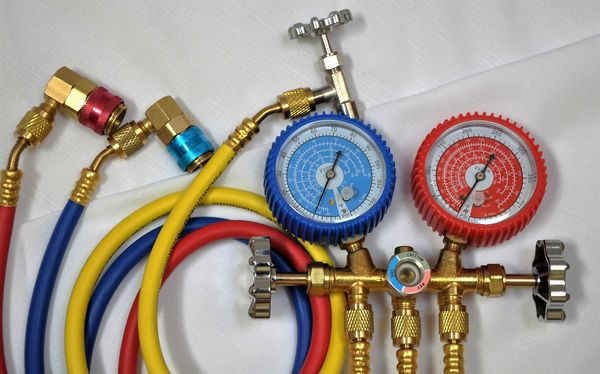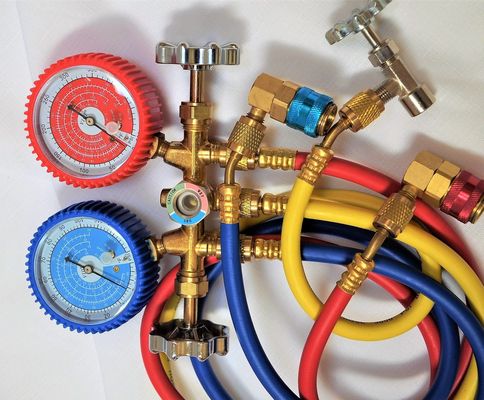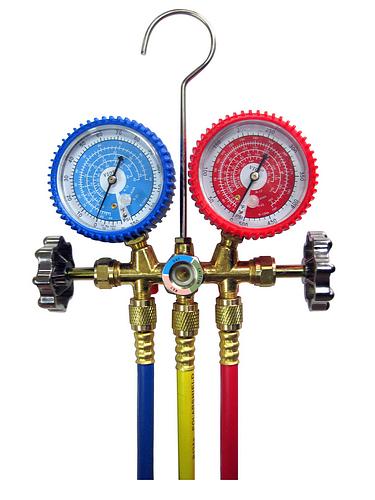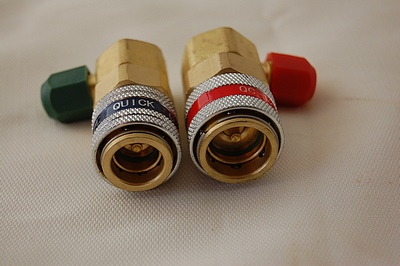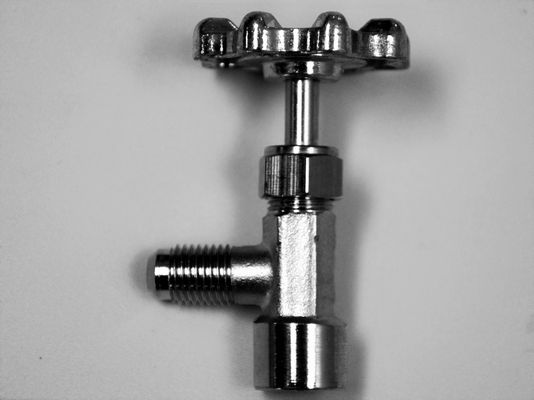 | | | |
| --- | --- | --- |
| More Products are added and Promotional sales requently, please come back and check with VIOT.US often, please! | | Copyright ©2005 -- 2017 |