>>Click Category List...




















Still Looking? Do a
PayPal/Credit cards
accepted

Product: Kits: VGRK
Item Brief: Vacuum Gauge+1/2inch barbed Tee+Tee:1/4X1/4flare X1/8NTP+ 3/8X1/2Barb Adapter
Buy it now:$69.97
Shipping in US: $9.95 (Note: 2 X the $ to US Islands or 3 X to Canada, or 4X to Other counties)
Check out with PayPal or Credit Card: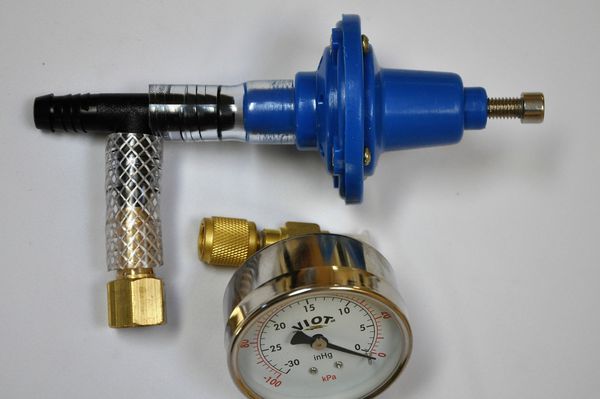 You are looking at a Vacuum Regulator Controller Hardware Kit: Include Vacuum Gauge and Vacuum Relieve Valve for Workshop or Cow Goat Milker Pulsator Pressure Regulation Automation Compatible with Surge Delaval VIOT milkersupply.com :
Kit also include a 1/2 barbed Tee, a Tee adapter to 1/4" flare port, and an adapter from 3/8"(pump port) to 1/2" Barb for pulsator hose connection. This kit is designed for pumps with both 1/4 and 3/8 inch flare ports.
FEATURES:
Vacuum Gauge, analog 2.5 inch gauge up to 30 inch Hg with a Tee adapter to 1/4" flare pump port
Vacuum Regulator, relieve valve, Adjustable Range: 13 to 29 inch Hg; with a Barbed Tee adapter to 1/2" hose line.
Adapter from 3/8 " Flare to 1/2" hose connector
Total Weight: 2 lb
This kit connect to the 3/8 and 1/4 male flare vacuum pump ports and give you the right connection to the vacuum line for milker hook-up. Compatible with all brands name and manufacturers of milkers and pumps: Surge or DeLaval, milkersupply.com or VIOT. For cow or goat milking. This kit provide you with a safe mind that the vacuum pressure is there and visible, and the pressure is controlled at a safe vacuum level so tha tha the animals being milked get protected.
Packing List:
Vacuum Gauge, 1 unit
Vacuum regulator, 1 unit
Brass Tee adapter, 1/4 X 1/4 flare X 1/8 FNPT, 1 unit
Brass adapter, 3/8 FFL X 1/2 Barb, 1 unit
Short 1/2 ID PVC hose, 2-inch, 2 units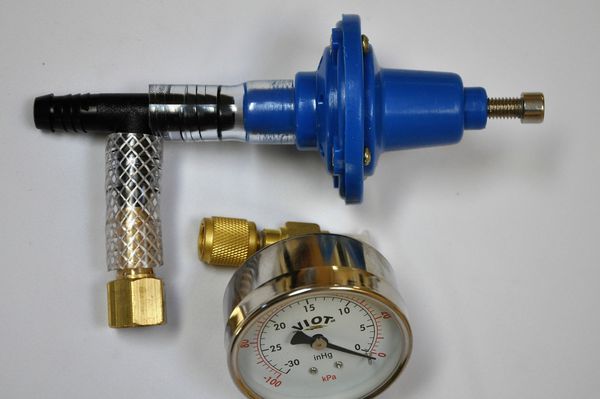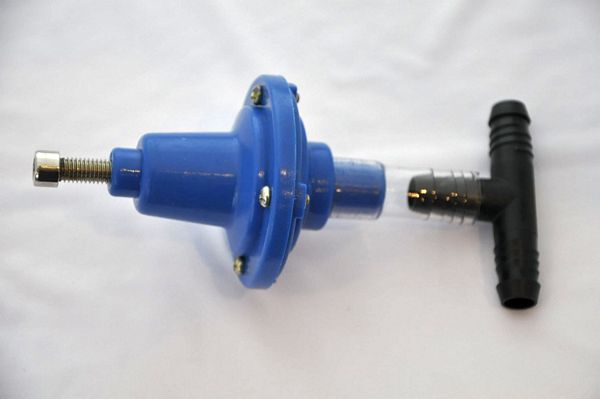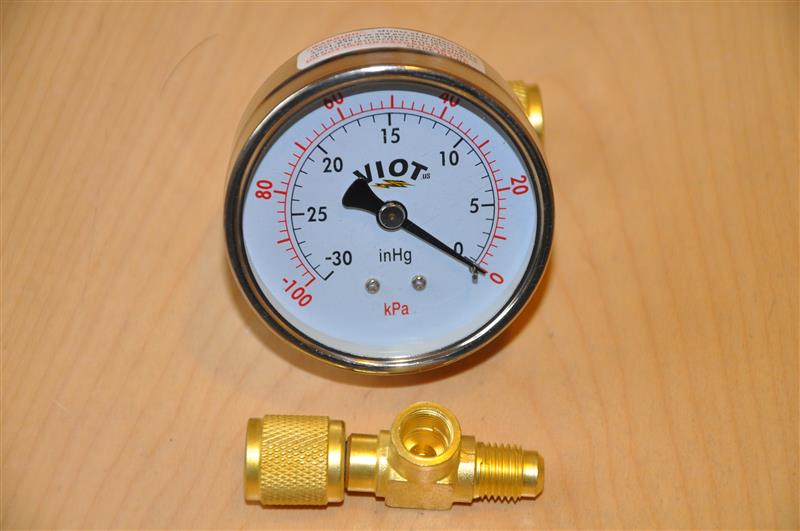 | | | |
| --- | --- | --- |
| More Products are added and Promotional sales requently, please come back and check with VIOT.US often, please! | | Copyright ©2005 -- 2017 |