>>Click Category List...




















Still Looking? Do a
PayPal/Credit cards
accepted

Product: Kits: GMadQCPL
Item Brief: Dual Gauge Alumunum Manifold Set GMad w/5ft Hose Set +Car AC Quick snap-on couplers adapters
Buy it now:$49.99
Shipping in US: $9.95 (Note: 2 X the $ to US Islands or 3 X to Canada, or 4X to Other counties)
Check out with PayPal or Credit Card: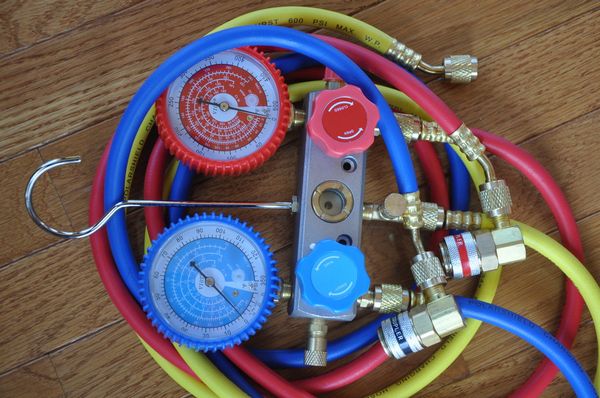 You are Looking at a

a Brand new
Manifold Set, Model: GMad
with aluminum body, 5-ft, 3-colored refrigeration Hoses
FEATURES:
2-Way Manifold Gauge with Aluminum Frame for R22 R134a R12 and R404a

Large 2 5/8" diameter, analog gauges with enlarging lens
mounted on anodized Aluminum alloy Block body(light weight, stronger than brass)
built-in Large sight viewing glass on the utility line(yellow)
Diaphragm valves with swivel seals for more positive seal and less wear
Large port holes/less restriction, for faster recovery or charging.
Pressure in PSIG
Temperature in F for R22, R134a, R12, and R404A
3 X 1/4" male SAE anchors in the gauge body
a SS hook for hand-free operation

3 Color Coded Hoses, Meet, SAE, and UL standard, 600 PSI Working pressure, 3000 PSI burst pressure.
Plus, a Pair of Car AC system Port Quick Couplers/Connectors

Set of 2, color coded quick connectors:
Blue, Low side quick connector/adapter, 14mm to the car port, 1/4" mae flare to the manifold hose
Red, High side quick connector/adapter, 16mm to the car port, 1/4" mae flare to the manifold hose
All metal construction
Quick action ball operated, safe design.
Compact.
In stock and ready to ship.
WE SUPPLY HVAC SCHOOLS AND CONTRACTORS!
EMAIL ALL QUESTIONS TO JOHN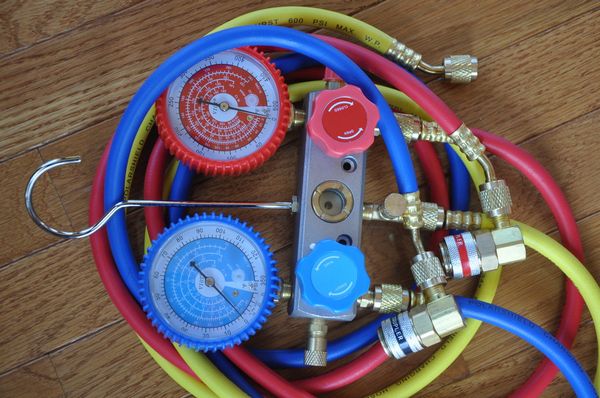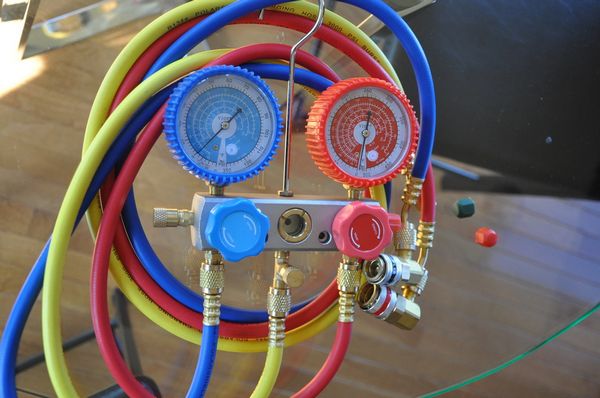 | | | |
| --- | --- | --- |
| More Products are added and Promotional sales requently, please come back and check with VIOT.US often, please! | | Copyright ©2005 -- 2017 |