>>Click Category List...




















Still Looking? Do a
PayPal/Credit cards
accepted

Product: Kits: BA3
Item Brief: 28 oz high pressure container with hoses valves flushing gun etc, great service tool for plumbing and AC system cleaning with flushing agent or just compressed air
Buy it now:$44.97
Shipping in US: $5.95 (Note: 2 X the $ to US Islands or 3 X to Canada, or 4X to Other counties)
Check out with PayPal or Credit Card: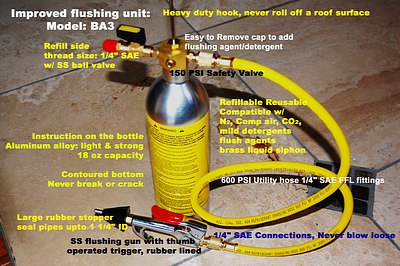 You are looking at a brand new
Improved: Power Flush Injection Kit for R410a Retrofit System Cleaning: Kit Include: Canister, hose, Flush gun, Control Valves; Refillable Reusable A must Have Field Service Tool.

For retrofit system cleaning, inside and out, condenser /evaporator fin cleaning and air brush.
FEATURES:
Aluminum alloy tank/canister,

strong and light weight,
capacity: 28 oz (850 ml)
Punt bottom/base, will not break or crack

Cap: Solid Brass:

Threaded for easy removal/install
Rubber seal, hand-tight easyly
with a 150 PSI safety valve built-in(on the cap)
with a heavy duty SS hook, to hang the whole unit, preventing the unit from falling (think, at a rooftop job!)
with a liquid siphon built to it to draw liquid from the bottom

Fill Side:

1/4" SAE male connector
with SS Hand/ball valve for control and isolation

Discharge Side: 1/4" SAE male flare Connections, Never blow loose Connections,
Hose: 3 feet long

600 PSI working pressure 3000 PSI burst pressure
1/4" SAE FFL fittings on both ends, good for other tools as well
yellow in color, can serve as utility hose for recovery

Flushing gun:

Heavy duty SS construction
1/4" SAE MFL to hose connection
with thumb operated trigger, rubber lined
Large rubber stopper, can work on and seal tubings/pipes up to 1&1/8" ID

Instruction on the bottle
Easy to Refill, cleans systems, inside and out
Compatible w/ N2, Comp air, CO2, mild detergents, flush agents
Whole kit designed solid and provide durable service for decades to come.
No clamp screws to tight, never need to worry about being blown loose by the high pressure.
In stock and ready to ship.
User manual download at: http://viot.us/showmanual.php?model=BA3
FAQ at:http://viot.us/showFAQ.php?model=BA3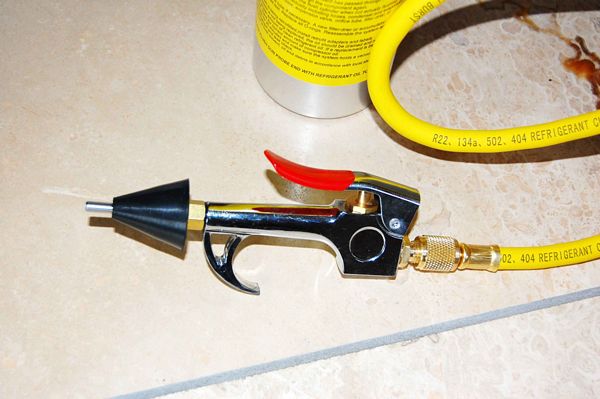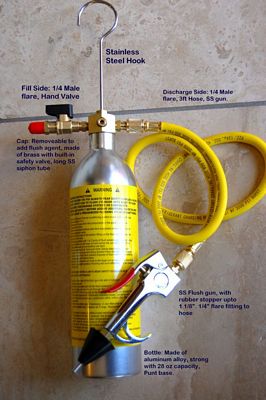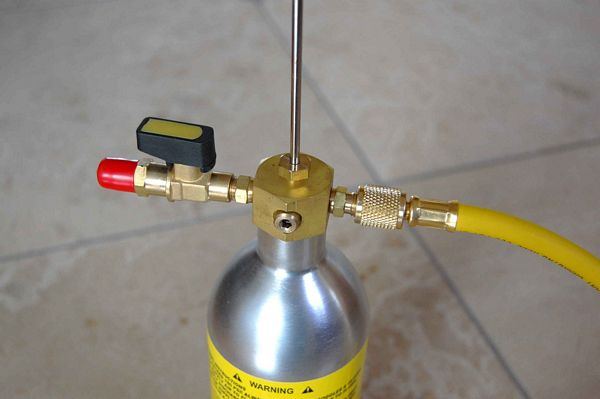 | | | |
| --- | --- | --- |
| More Products are added and Promotional sales requently, please come back and check with VIOT.US often, please! | | Copyright ©2005 -- 2017 |